Life in Guangzhou
New Life in the China
On Your Arrival Day
On your arrival day, we will pick up you at Guangzhou Bai Yun Airport and deliver you and your luggage to the hotel. During the first week, we will do our best to support you and introduce you to everything you should know about Guangzhou. After that, if you have any questions or need any help, just ask.
Accommodation
We will introduce the rental agents to you for your apartment hunting. And we will provide translation service and necessary advice during the whole process.
Banking
HFI will assist you in setting up a Chinese ICBC bank account. A Chinese bank account can be very useful for using Alipay/Wechat Pay which are China's very popular online Apps for purchasing Goods and transferring money.
Health & Wellbeing
You do not need to register with a GP in China. You will be covered by the medical insurance provided by HFI which allows you to use the service from both public and private hospitals. But you may need to notify the Health Insurance Company before seeking treatment in order for it to be covered by your policy.

Fitness
The gym can be quite expensive in China! If you want to join a gym, it costs about ¥2000-¥4000 for a 12 months contract.
Getting Around
Travel and Transport
DiDi
DiDi is a Chinese version of Uber and is very cheap. Search DiDi in your APP store. You will be requested to register for the first time. It is a highly recommended APP for getting a taxi. You can book a private car or public taxi with it. We recommend DiDi over Taxi Companies as official taxi drivers will try and charge extortionate rates if you look Western and cannot speak Mandarin!
Public Transport in the Region
The Metro and buses are really cheap and easy ways to get around the city. You can download Guangzhou Transport APP to find out the best routes.
1) Bus
There are many bus lines in Guangzhou. But most of them only charge at ¥2.00 no matter how far you go. Most of them operate from 6:00am to 10:00pm. Few of them operate over night.
2) Metro
Metro is a good choice during summer time because it has good air conditioning! Our English teachers have found it is the easiest way to get around the city. China is a very busy place and so at peak times the metro can become extremely crowded! Our teachers often have competitions over who manages to squeeze onto packed trains at rush hour!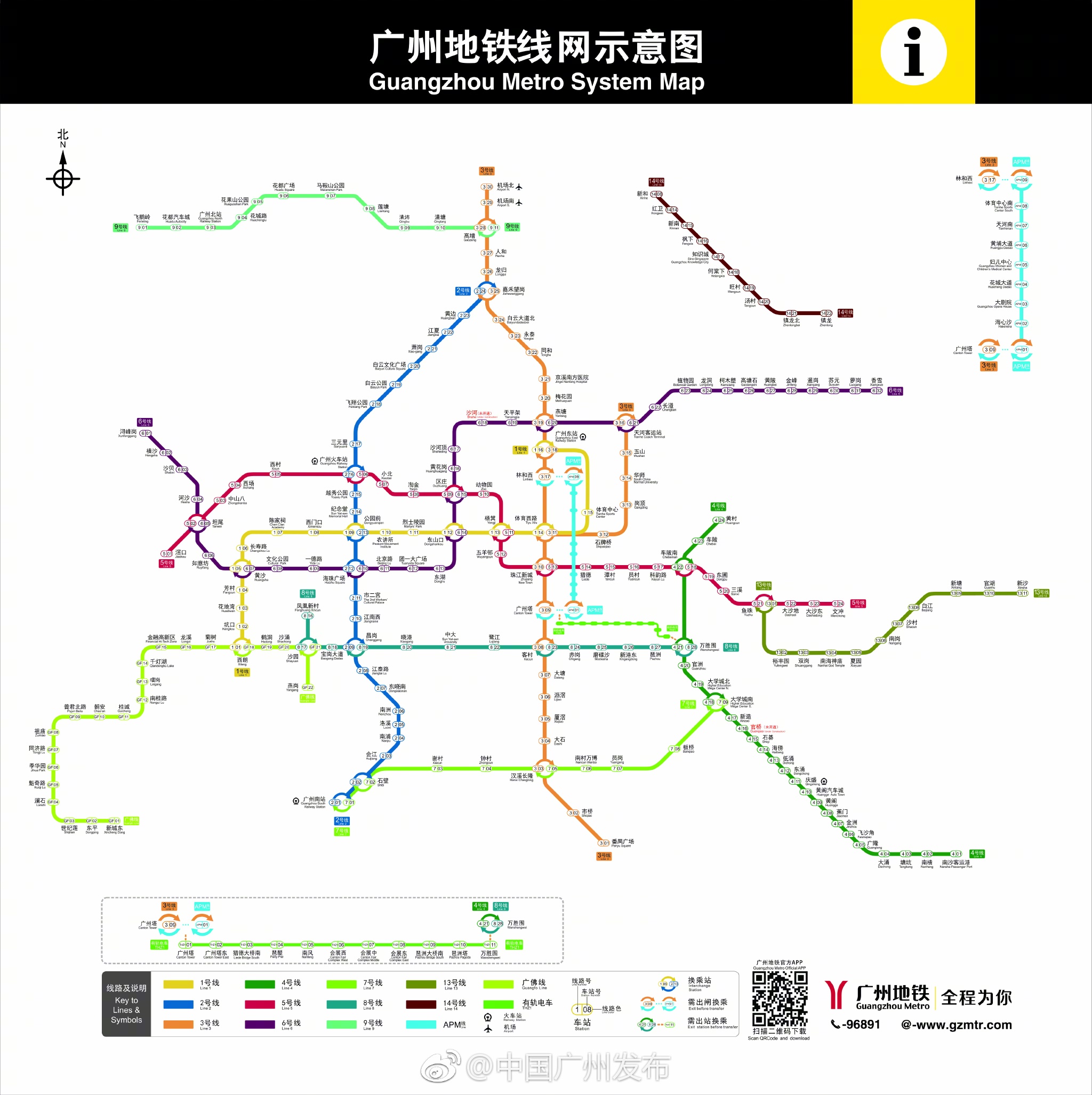 (Picture from website of Guangzhou Metro)
3) Gao Tie
If you plan to have a trip, Gao Tie is the best choice. You can get to many places within 2-4 hours.
The official website for Gao Tie is www:12306.com. But it is only in Chinese.
You may ask help from your colleagues. You can also visit the website below if you want to book a flight, hotel or train. http://english.ctrip.com/

Trips

There are many places you should visit whilst in China. The list below are tourist attractions very easy to access.

Chen Clan Ancestral Hall
The Clan Ancestral Hall is an academic temple in Guangzhou, built by the 72 Chenclans for their juniors' accommodation and preparation for the imperial examinations1894 in Qing Dynasty. Chen Clan now houses the Folk Art Museum.
The Chen Clan Ancestral Hall complex exemplifies traditional Chinese architecture and decoration style, and has influenced cultural and architectural developments worldwide. It was added in the list of "Cultural Relics of National Importance under the Protection of the State" in 1988.
Location: Zhong Shan Qi Lu, Liwan District, Guangzhou City
Open time: 8:30am to 5:30pm, daily
Ticket: ¥12.00 (Ticket can be purchased on site)
Website: https://en.wikipedia.org/wiki/Chen_Clan_Ancestral_Hall

The Canton Tower
The Guangzhou Tower is one of the world's most spectacular new buildings. It is not only the world's tallest TV tower (600m), beating Toronto's CN-tower (553m), but also a surprisingly beautiful structure. The best time to see the tower is at night when it is all lit up. The Canton Tower also boasts the 'Worlds Highest Ferris Wheel' and a Gravity Machine called 'The Shoot'.
Location: Yuejiang Road West / Yiyuan Road, Haizhu District, Guangzhou, China
Metro: Canton Tower (Line 3|09, Orange; APM 01, blue)
Open time: 9:00am – 10:00pm daily
Ticket: ¥120.00 -- ¥350 (Ticket should be purchase online)
Website:http://ticket.cantontower.com:8090/index!toadd.action

White Cloud Mountain (Baiyun Mountain)
From ancient times, White Cloud Mountain has been one of the most famous spots of natural beauty in Guangzhou. The mountain is said to offer the best views of the city. The quiet and secluded environment of the valley can be a nice place to take a walk and have a peaceful break away from the chaos of the city. You can stand on the summit and look over the whole city and the beautiful Pearl River, the most famous river in Guangzhou.
The mountain valley has six areas that are popular with visitors:
Bright Pearl Building Park, the San tailing Summit Park, the Bird Spring Valley Park (Mingchun Valley), the Santailing Park, the Luhu Park and the Fei'eling Park.
Yuntai Garden, located in Santailing Park, is an enormous garden filled with all kinds of blooms and trees, which make Guangzhou, City of Flowers, worthy of the name. The Sculpture Park is located in Fei'eling, and covers an area of 46 hectares (113 acres). It was built according to the fashion of the times, which was to use modern languages in sculpture.
Location: Bai Yun Mountain, Bai Yun District, Guangzhou, China
Metro: Meihuayuan (Line 3|20, orange)
Open time: 6:00am – 5:00pm daily
Entrance Fee: ¥5.00 (Ticket can be purchased on site)
The ticket for attractions are vary between ¥3.00 to ¥20.00
More travel guides about Guangzhou: https://www.travelchinaguide.com/attraction/guangdong/guangzhou/whitecloud.htm
Other Useful Information
Online Shopping
In China, online shopping is extremely popular. You can buy almost everything online and most things can be delivered the next day. Below are the biggest two online retailers:
Food, Clothes, Elections, Books……everything!
Food, Clothes, Elections, Books……everything!
Simple Chinese
It will also be useful for you to learn some simple Chinese.
Hello! 你好 (ni hao)
Thank you!谢谢 (xie xie)
No problem/You are welcome. 没关系 (mei guan xi)
Excuse me. 对不起 (dui bu qi)
My name is ……. 我的名字是…… (wo de ming zi shi……)
I am glad to meet you. 很高兴见到你。(hen gao xing jian dao ni)
I am from United Kingdom. 我从英国来。
(wo cong ying guo lai)
How much is it? 这个多少钱? (zhe ge duo shao qian?)
I want this one. 我想要这一个。 (wo xiang yao zhe yi ge)
Ideas for living Cost
The cost of living is very cheap in China compared to many countries.
Breakfast ¥5.00--¥10.00
Basic lunchtime meal / Fast food restaurant ¥15.00--¥30.00
Mid range restaurant ¥100.00 / Person
Coffee (Starbuck / Costa / Pacific ) ¥25.00--¥35.00
Big Mac Meal ¥35.00
Coca-Cola (330ml) ¥3.50
Bus Ticket ¥2.00
Metro Ticket ¥2.00--¥8.00
Pork Meat ¥20.00--¥35.00/kg
Beef ¥30.00--¥45.00/kg
Milk ¥40.00--¥55.00/L
Local Weather
The temperature in Guangzhou is generally very warm and can rise to around 37 degrees during the summer months. From the end of April the weather will become increasingly humid.